Bgcm

hours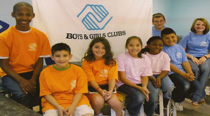 3:00pm - 7:00pm Tuesday-Friday.
10am - 4pm Saturday

7:00pm - 10:00pm Tues. & Thurs.
7:00pm - 10:30pm Fridays.

[School Holidays and In- Service Days (Ages 7-18):
9:00am-4:00pm Monday-Friday.]
9:00am-4:00pm Monday-Friday.
Tune in to WCRK or WMTN for our hours during inclement weather.

Office Hours
9:00am-5:00pm Monday-Friday
Kids' membership fees account for only 3% of the yearly operating budget while the United Way of Hamblen County provides about 35%.  The remainder of funds needed to operate the club must be raised through donations, grants and fundraising efforts.  Annual events include the Super Auction, Benefit Dinner and Drawing, and Christmas Card Sale.

Super Auction – Held in August each year, this is the Club's largest single fundraising event.  Individuals and businesses donate items throughout the year that are then auctioned to the highest bidder.  Automobiles, building lots, storage buildings, furniture, jewelry, artwork, sporting event tickets and gasoline are among the many items auctioned.
Annual Benefit Dinner and Drawing – 200 tickets are sold for $250 each that entitle the buyer to two dinners at the Country Club of Morristown and a chance to win up to $10,000 via a reverse drawing. This event is held every May.
Christmas Card Sale – During the summer, members of the Boys and Girls Club of Morristown design Christmas cards and submit them for judging.  The winner receives $50 and his/her design is printed and sold for $1 per card.  Individuals and businesses can purchase any number of cards with a choice of two verses.  Imprinting/logos can be imprinted on the cards for $20 or if 200 or more cards are purchased the imprinting is free.  The cards go on sale November 1st of every year.
Adult Health Club Memberships – This is an ongoing fundraising activity of the Club.  Adult members have access to a weight room, sauna, an indoor pool and the gymnasium.  (Note:  pool and gym usage dependent on the Club children's use of these facilities.)  Membership fees for one year are as follows (plus $5 key deposit): 

Adults - $200
Husband & Wife - $350
Senior (60 & older) - $160
Group - $160 each (minimum of five with company guarantee)
Please contact the Club if interested in joining.
Volunteers
Volunteers support the club in a variety of ways including:  mentoring, program support, special events and fundraising events.

-  If interested in volunteering at the Boys & Girls Club of Morristown please contact the club.
-  Click here to download the volunteer apllication: Part One - Part Two - Part Three.
-  A background check is required of all volunteers who directly work with children.  The completed application can be mailed or hand delivered to:

Boys & Girls Club of Morristown, Inc.
311 Sulphur Springs Road
P.O. Box 1461
Morristown, TN 37813