Bgcm

hours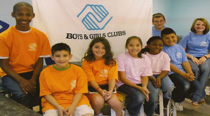 3:00pm - 7:00pm Tuesday-Friday.
10am - 4pm Saturday

7:00pm - 10:00pm Tues. & Thurs.
7:00pm - 10:30pm Fridays.

[School Holidays and In- Service Days (Ages 7-18):
9:00am-4:00pm Monday-Friday.]
9:00am-4:00pm Monday-Friday.
Tune in to WCRK or WMTN for our hours during inclement weather.

Office Hours
9:00am-5:00pm Monday-Friday
The Arts Programs in this Core Area enable youth to develop their creativity and appreciation of the arts through multifarious activities. The Club offers the following Arts programs:
Skitters
An introductory performing arts program: youth learn to build   their skill and confidence in acting and performing.
Boys & Girls Club Singers
This is an opportunity for members to participate in singing at the Club as well as in the community.
Praise and Worship Team
Dance and sign language is incorporated in youth performances to inspirational music.
Arts and Crafts Classes
A variety of classes are offered at various skill levels.