Bgcm

hours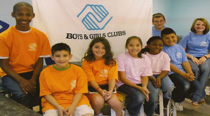 3:00pm - 7:00pm Tuesday-Friday.
10am - 4pm Saturday

7:00pm - 10:00pm Tues. & Thurs.
7:00pm - 10:30pm Fridays.

[School Holidays and In- Service Days (Ages 7-18):
9:00am-4:00pm Monday-Friday.]
9:00am-4:00pm Monday-Friday.
Tune in to WCRK or WMTN for our hours during inclement weather.

Office Hours
9:00am-5:00pm Monday-Friday
Sports, Fitness & Recreation The importance of fitness, positive use of leisure time, skills for stress management, and social skills are topics promoted in these programs.  Programs offered by the Boys & Girls Club of Morristown include:
Triple Play
This national program, supported by the US Department of Health and Human Services, takes a holistic approach to educating youth about good nutrition, making physical fitness a daily practice and developing individual strengths and good character.
Gamesroom
Social recreation activities are offered for all ages and include:  ping pong, billiards, foosball, bumper pool, carpet pool and board games.


Gymnasium

Physical, age appropriate, recreational activities are offered in a supervised environment. 
Swimming
An indoor pool is offered for year-round activity. Swim lessons taught by American Red Cross certified instructors are available to club members throughout the school year.
The fall schedule for open swimming is as follows:  Wednesday 4:30-6:00PM; Friday 3:30-5:30; Saturday 1-3PM.
Swim Lesson Schedule:
October 18-28              Levels 1 and 2
November 8-18            Levels 1 and 2
January 10-20              Level 3
February 7-16               Level 4
March 13-23                 Levels 1 and 2
April 10-20                    Level 3
May 1-11                       Adults Only
Swim Team
The Boys & Girls Club of Morristown, in conjunction with Morristown Park & Recreation, hosts a competitive swim team. The team is coached by Elizabeth Dickerson.  For more information go the team website @ www.mbgc.swim-team.us. 
      The high school swim teams (East Coach - Misty Gray; West    
Coach - Jacob Hand) also practice at the Club.  Their schedule is  
as follows:
Monday and Thursday: 3-7PM
Tuesday:  3-6:30PM
Wednesday: 3-4:30P
Park Players
Various outdoor activities for youth are supervised by club personnel.


41st Annual basketball tourney winners